Teen Driver's Contract
---
Sending your teenaged driver out on the road is nerve-wracking for every parent. Inexperience combined with all the distractions and dangers facing all drivers can cause costly mistakes. Our friends at Travelers Insurance have provided the Teen Driver's Contract and Informational Packet available for free download below. Take the time to read and understand the facts with your new driver to keep them well-prepared for the open road and well-protected behind the wheel. Establishing good driving habits and applying rules to govern driving privileges from the start will ensure your teen's safety—we at Jeffrey Wong Insurance Agency will insure your peace-of-mind in the meantime.
For more information, feel free to contact us at any time.
---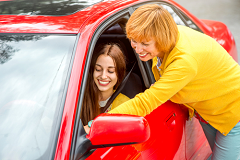 Still shopping for the best policy to cover your teenage driver? See our auto insurance page to learn the details.
Request a quote to start the process today.